This memorial website was created in loving memory of our precious little angel, Landon Tyler who was born on June 27, 2007 and passed away on January 06, 2008 . We miss him and will remember him forever. He was and is our definition of Courage, Strength and what a real Hero is. He taught us more about life in his short life that we will ever learn in our lifetimes. We were honored and blessed to have this miracle sent to us from God. Until we meet again, precious little one.

We will never understand why our children are taken from us at such a young age. It is only through our faith in God and the power of prayer that we are able to cope with the loss of our precious Landon everyday. Only through Amber's faith in God and her amazing courage and strength and putting our angels fate in the hands of our Heavenly Father, that he was even brought into our lives. When all the doctor's gave her the option to keep Landon or abort him, when they said he only had a less than 10% chance of survival, she said that it wasn't her decision to make that it was God's and he would make that decision when the time was right. Little did we know that she was so right.
I admire her for her amazing courage and strength as a woman and a mother for always being there for Landon and making the right decisions for him. I know how trying and difficult this was for you, my sweet niece, being a single parent. We thank all of the doctors and nurses at Childrens and UAB hospitals for caring for Landon and Amber during his 6 months here with us. This was the only home he ever knew and all of grew to love Landon as we did. You gave us life with Landon with your God given gifts for 6 beautiful months and we will forever be grateful for that.
We thank our heavenly father, God, each and everyday for giving us the miracle of Landon. What a beautiful gift, thank you God so much for giving us the few short months with our beautiful little Landon. We will forever cherish them. Thank you, Landon for showing me a new meaning to love and family and what a true Hero is. You are one amazing little boy and you will forever live on through us, your loving family.
---
To view Our Angel Landon's Memorial Tribute, go to this link:
---
My Son

Lord, help me
not to focus
On his death,
but on his life.

All the moments
that we had him
Not the struggles
and the strife.

He was a gift
and not a "right."
You owe us
nothing, Lord.

We thank You for
the joy he brought
This sweet little
boy we adored.

--Elizabeth Dent (Author)
---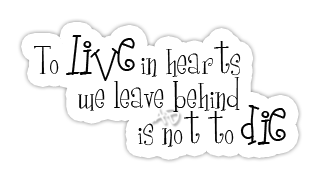 (Text graphic above by: Lacey Harris, Mommy to Angel Landan Harris)
---
(Signature tag below by
http://www.catchydesigns.net
Thank you, Chana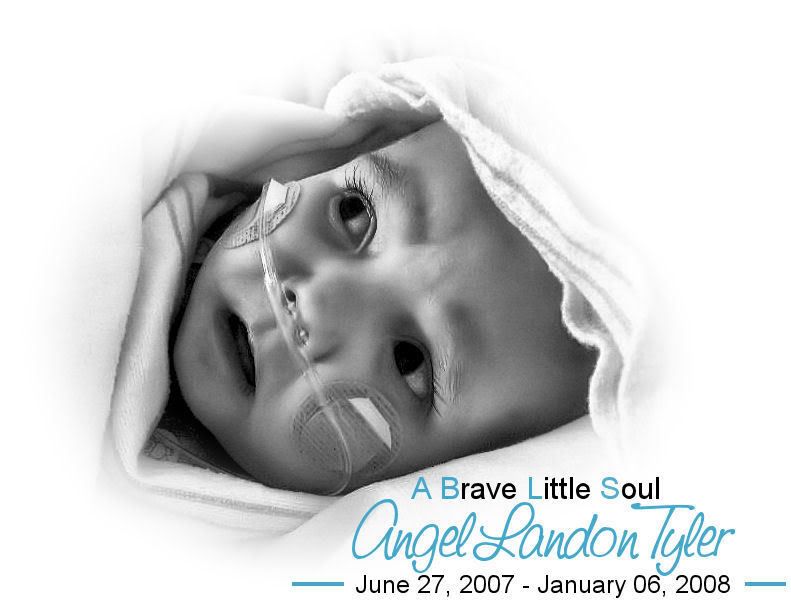 'The Brave Little Soul'

Not too long ago in Heaven there was a little soul who took wonder in observing the world... He especially enjoyed the love he saw there and often expressed this joy with God... One day however the little soul was sad, for on this day he saw suffering in the world... He approached God and sadly asked, 'Why do bad things happen; why is there suffering in the world?'

God paused for a moment and replied, 'Little Soul, do not be sad, for the suffering you see, unlocks the love in people's hearts...' The little soul was confused. 'What do you mean,' he asked. 'God replied, 'Have you not noticed the goodness and love that is the offspring of that suffering? Look at how people come together, drop their differences and show their love and compassion for those who suffer... All their other motivations disappear and they become motivated by love alone...'

The little soul began to understand and listened attentively as God continued, 'The suffering soul unlocks the love in people's hearts much like the sun and the rain unlock the flower within the seed... I created everyone with endless love in their heart, but unfortunately most people keep it locked up and hardly share it with anyone... They are afraid to let their love shine freely, because they are afraid of being hurt... But a suffering soul unlocks that love... I tell you this - it is the greatest miracle of all. Many souls have bravely chosen to go into the world and suffer - to unlock this love - to create this miracle - for the good of all humanity...'

Just then the little soul got a wonderful idea and could hardly contain himself... With his wings fluttering, bouncing up and down, the little soul excitedly replied, 'I am brave; let me go!! I would love to go into the world and suffer so that I can unlock the goodness and love in people's hearts! I want to create that miracle!!'

God smiled and said, 'You are a brave soul I know, and thus I will grant your request... But even though you are very brave you will not be able to do this alone... I have known since the beginning of time that you would ask for this and so I have carefully selected many souls to care for you on your journey... Those souls will help create your miracle; however they will also share in your suffering... Two of these souls are most special and will care for you, help you and suffer along with you, far beyond the others... They have already chosen a name for you...'

God and the brave little soul shared a smile, and then embraced. In parting, God said, 'Do not forget little soul that I will be with you always... Although you have agreed to bear the pain, you will do so through my strength... And if the time should come when you feel that you have suffered enough, just say the word, think the thought, and you will be healed...'

Thus at that moment the brave little soul was born into the world, and through his suffering and God's strength, he unlocked the goodness and love in people's hearts... For so many people dropped their differences and came together to show their love... Priorities became properly aligned... People gave from their hearts... Those that were always too busy found time. Many began new spiritual journeys - some regained lost faith - many came back to God... Parents hugged their children tighter... Friends and family grew closer... Old friends got together and new friendships were made... Distant family reunited, and every family spent more time together... People checked a website and sent notes of encouragement... People made and brought meals to the family of the suffering... Everyone prayed... Peace and love reigned... Lives changed forever. It was good... The world was a better place... The miracle had happened...

God was pleased ......

(By John Alessi)
---
"Death of a Child"

Sorry I didn't get to stay.
To laugh and run and play.
To be there by your side.
I'm sorry that I had to die.
God sent me down to be
with you, to make your
loving heart anew. To help
you look up and see Both
God and little me.
Mommy, I wish I could stay.
Just like I heard you pray.
But, all the angels did cry
when they told little me
goodbye.
God didn't take me cause'
He's mad. He didn't send
me to make you sad. But
to give us both a chance
to be a love so precious...
don't you see?
Up here no trouble do I see
and the pretty angels sing
to me. The streets of gold
is where I play, you'll come
here too, mommy, someday.
Until the day you join me here,
I'll love you mommy, dear.
Each breeze you feel and see,
brings love and a kiss from me.

Author~Sandy Eakle
---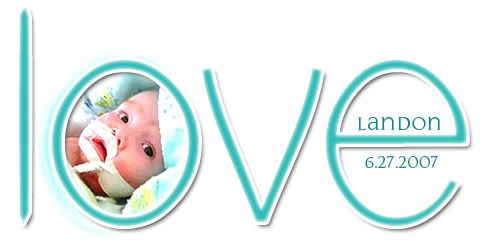 ---
A true Mommy's little boy, always lighting up to see her. You and your mommy shared a specialness that no one will ever know except the two of you. You were her hero and her little "Chunky Monkey". I know that she was yours too.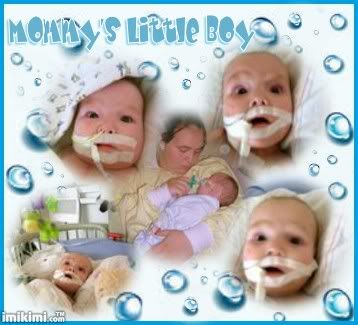 ---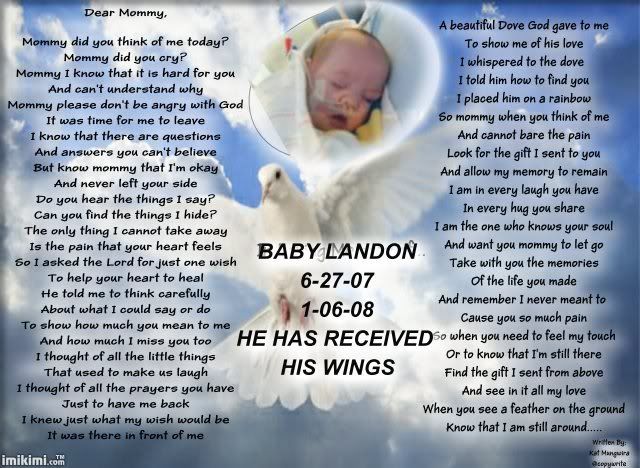 ---
A Poem from a Friend
Thank you Jennifer
Author and Title Unknown When tomorrow starts without me,
And I'm not there to see; If the sun should rise and find your eyes
All filled with tears for me; I wish so much you wouldn't cry The way you did today, While thinking of the many things, We didn't get to say.
I know how much you love me, As much as I love you, And each time that you think of me, I know you'll miss me too; But when tomorrow starts without me; Please try to understand, That an angel came and called my name, And took me by the hand. And said my place was ready, In heaven far above, And that I'd have to leave behind All those I dearly love. But as I turned to walk away,
A tear fell from my eye, For
all my life, I'd always thought,
I didn't want to die.
I had so much to live for,
So much yet to do, It seemed
almost impossible, That I was
leaving you.
I thought of all the yesterdays,
The good ones and the bad,
I thought of all the love we
shared, And all the fun we had.

If I could relive yesterday,
Just even for awhile,
I'd say good-bye and kiss you
And maybe see you smile.
But then I fully realized,
That this could never be
For emptiness and memories,
Would take the place of me.

And when I thought of
worldly things, I might miss
come tomorrow, I thought
of you, and when I did,
My heart was filled with
sorrow. But when I walked
through heaven's gates, I
felt so much at home.
When God looked down and
smiled at me, From His great
golden throne, He said "This is
eternity, And all I've
promised you."
Today for life on earth is
past, But here it starts anew.
I promise no tomorrow, But
today will always last, And
since each day's the same
way There's no longing
for the past.
But you have been so faithful,
So trusting and so true. Though
there were times you did
some things, You knew you
shouldn't do.
But you have been forgiven
And now at last you're free.
So won't you take my hand
And share my life with me?
So when tomorrow starts
without me, Don't think we're
far apart, For every time you
think of me, I'm right here,
in your heart.
---
I found these quotes on the internet and I think they describe the amazing strength and courage that our Little Hero, Landon had and taught us throughout his short life.
For His Strength:

"Anyone can give up, it's the easiest thing in the world to do. But to hold it together when everyone else would understand if you fell apart, that's true strength.

For His Courage:
"When you walk to the edge of all the light you have and take that first step into the darkness of the unknown, you must believe that one of two things will happen: There will be something solid for you to stand upon, or, you will be taught how to fly."




Both Author's Unknown
---
Our Brave Little Hero

(Text graphic above by: Lacey Harris, Mommy to Angel Landan Harris)
---
"Letter To Mommy From Landon" Mommy please don't be sad,
I miss you so much too. It's beautiful here, but I worry a lot about you.
I sleep with angels watching me... there is only love up here.
I am never lonely or afraid
because God is so very near. I walk with Jesus every day, He is very kind and loving.

Don't worry Mom, He holds my hand when we cross a golden street. I never cry or hurt myself, I see Grandma every day. I play and laugh and sing a lot
and I hear you when you pray. Please Mommy, don't be mad
at God, you see He loves me too.
And even though you are not with me, I am really still with you.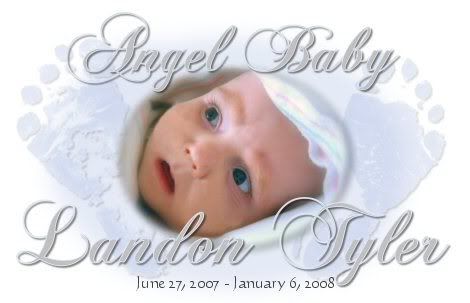 ---
MY Boo Boo
What can I say about the best thing that has ever happened to me? You were my life and I never new true happiness until you. I miss your sweet little face and the way it shined when you looked at me. I miss your little fingers, that use to wrap around mine. I miss those eyes of yours that were so beautiful and intense. Your perfect little body with all the imprefections that I loved about you. I wouldn't have traded you for any healthy baby in the world. You were perfect in everyway. I miss you everday and I still wish everyday that it was all just a bad dream and that you were still at childrens hospital waiting on me to come and see you. I guess GOD had bigger plans for us and he had to take you from me. I miss you soo much and I love you bunches
love,
mommy
---
To My Precious Angel, Landon Tyler:

God gained the sweetest and most beautiful Angel on earth when he welcomed you to heaven lil man. Watch over your Mommy and all of us still left here on earth, until we meet again at the gates of heaven.
My only regret that I have is that we didn't get to bring you home to our loving homes and let you feel that love when we could finally hold and touch you with some tender loving care. I will always wonder what that would have been like. I miss you and think of you every moment of every day that goes by. My heart has an emptiness in it that nothing can replace.
But I know that you are loved in heaven and are surrounded by Jesus and all your angel friends that love you too. I know that you are no longer having to struggle and fight to stay with us here on earth and finally at peace and able to play in the beautiful gardens of heaven.
My sweet punkindoo, you are my most favorite Angel in heaven, and the best thing that ever happened to our family. You are loved and dearly missed and forever in our hearts, my precious little one.
I have no words to describe the pain that is in my heart for you. I miss you so much punkindoo. I think of you daily sometimes all day. You are forever etched in my memory and my heart. I wish you were still here with us.
Thank you for giving my family the most beautiful 6 months of life that a family could ever dream of. Thank you for fighting as long as you did and trying so hard, I know you were tired little man.
I Love you with all my heart,
Aunt Becky (Until we meet again and we will)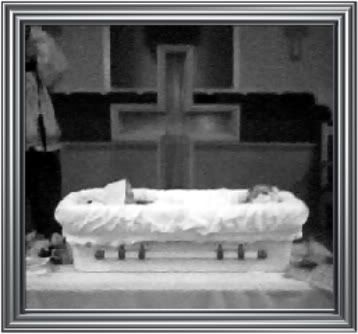 ---
To My Precious Little Man:
Words can never express what you mean to me sweet baby. You touched my life and taught me so much in the short little 6 months we had with you. On January 6, 2008, my world was crushed and God's garden was filled with the most beautiful Angel in the world. We here on Earth lost our favorite little boy, and God in Heaven gained his most favorite Angel. You mean so much to me, there isn't a way that I can explain it. I wish you knew how much I love you. I know you do, I just wanted the chance to show you. I know that you are now no longer in pain and are running happily in Heaven-having the time of your life!! You will be forever loved and missed, and always in my heart. Fly High sweet baby Landon, help me watch over your mommy and Kailyn. They miss you so much. Keep them safe, and dont play too hard!! I LOVE YOU LITTLE MAN!!
Love, Aunt Jen. [Landon & Kailyn *BFF*]
---
JUST SAY "I'M SORRY"
You don't know how I feel
Please don't tell me that you do.
There's just one way to know--
have you lost a child too? "You'll have another child!"--
must I hear this each day? Can I get another mother, too,
if mine should pass away? Don't say it was "God's will"--
That's not the God I know, Would God on purpose break my heart, Then watch as my tears flow?
"Aren't you better yet?" Is that what I heard you say? NO! A part of my heart aches--
I'll always feel some pain. You think that silence is kind, But it hurts me even more. I want to talk about my child
Who has gone through death's
door. Don't say these things to me, Although you do mean well.
They do not take the pain away;
I must go through this hell.
will be better--slow but sure--
And it helps to have you near.
But a simple "I'm sorry you lost
your child" is all I need to hear.

~Author Unknown~
---
Landon's Story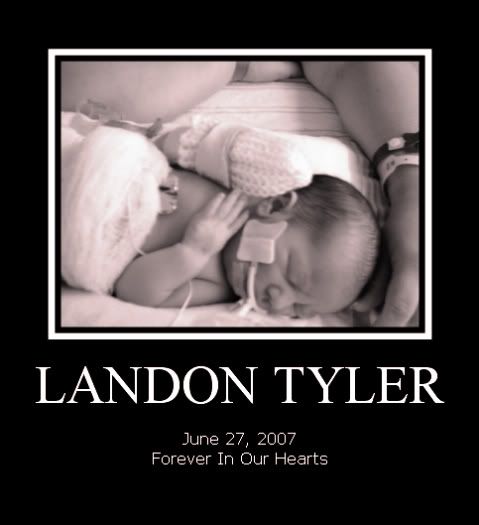 Landon was born with "Pentalogy of Cantrell", a rare birth defect that consist of a Congenital Heart Defect, more commonly Tetralogy of Fallot, and a Congenital Diaphragmatic Hernia, and an Omphalocele (this is a hole in the abdomen exposing several organs), in Landon's case his Liver and Intestines were exposed in the Omphalocele. He went through 6 surgeries to repair the Omphalocele and the Diaphragmatic Hernia in the first 2 months of his life beginning at 2 days old.


At 3 months old he underwent Open-Heart Surgery to correct the Heart Defects (tetralogy of fallot consists of 4 different defects of the heart). After his heart surgery his kidneys failed and he was diagnosed with Nephrotic Syndrome and put on a continual dialysis.

The doctors were telling us that eventually they would have to remove his kidneys and have a double kidney transplant when he turned 18 months old. Then just as suddenly as they stopped working his kidneys began to function again about 2 weeks prior to his death. It was then that he was taken off dialysis and was being prepared to come home.
---
Picture below is before surgery he weighed 12 lbs. (last week in Sept.)
---
Below is after his heart Surgery
---
Below is the swelling when his kidney's stopped working (at UAB) and before he was put on dialysis. He weighed 22 lbs. 10/30/07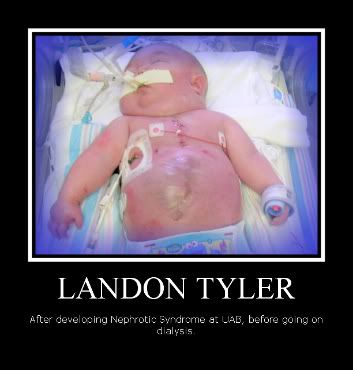 ---
In all he had approximately 13 surgeries in hi s short 6 months here with us and through it all, he always came through them stronger than ever before. He showed our family the true meaning of courage.
They did a final surgery on him on 01/04/2008, to insert a Trach so that he would be mobile once we brought him home. The surgery went well and there were no complications. He came through it like a true champion.
---
This is right after his Trach surgery on January 4th, 2008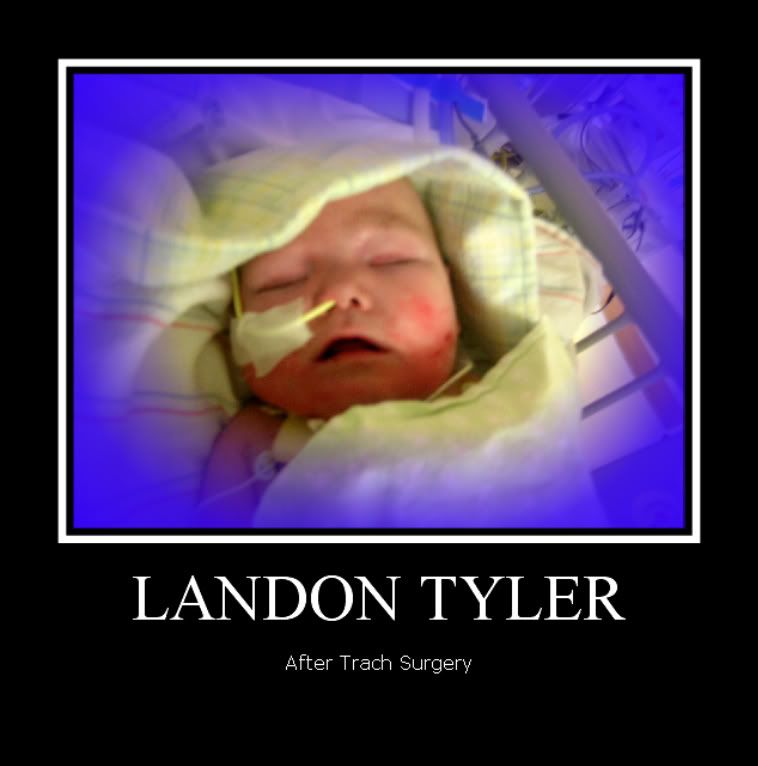 ---
However, in the early morning hours of Sunday, 01/06/2008, Amber got the phone call that every parent dreads that has a sick baby. It was Landon's nurse, she said, "Amber, Landon has coded, how far away are you?" Amber said she threw the phone down and immediately put her shoes and jacket on and ran all the way to the hospital from the Ronald McDonald house, which was a block away.
Upon her arrival, she learned that he had suddenly stopped breathing and that his Trach had gotten dislodged and cut off his airway causing him to go in to cardiac arrest. Amber arrived there while they were working on him, the nurse was waiting for her at the elavators-And she knew it wasn't good.
She went into the PICU and watched as the worked on her baby boy. After about 5 minutes, she walked out into the hallway to call her mom and I. She got through to me first and told me that Landon had coded. I was in disbelief and told her that I was on my way.
A few minutes went by and my phone rang again. It was Amber telling me that they were able to clear his airway and get a slight heart beat going again and that she was going back in to see him, then she said let me call you right back and hung up the phone.
She went back in the PICU to be with her precious little boy, and as she turned the corner all of the Doctors and Nurses just turned and looked at her shaking their heads. After several attempts to revive him (approximately 28 minutes), Our precious little Angel died at approximately 4:50 that morning.
Amber never called me back that morning. A few minutes after Amber and I spoke, my phone rang again and this time it was from Children's Hospital, it was Landon's nurse asking me could I come and be with Amber because Landon had passed away. I just screamed NO!! and fell to my knees and started crying. I didn't understand how this could happen. It was all so confusing, he was doing so well.
I then had to make the difficult call to my sister, Daphne and tell her because Amber had not been able to reach her that morning. As soon as I heard her voice I couldn't tell her, it was like she already knew. Thank God Jen was here with me, she got the phone from me and explained what little bit of information that she had been able to get from me to Daphne.
I could hear her screaming and I wasn't even on the phone. It was all such a nightmare, our little baby boy was gone. I left for the hospital right then so that someone would be with Amber. We didn't want her to be alone.
When our Precious Little Man passed, his mommy, Amber was there with him, along with his Doctors and some of the nurses that had taken care of him for the last six months.
---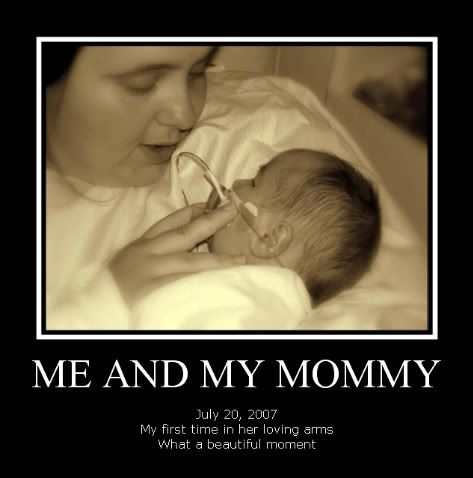 ---
They let Amber hold him after he passed and then she told the nurses to take out his tubes and clean him up so that his family could come in and see him one last time. Amber walked out as they were cleaning him up to get some air and make those devastating calls every parent prays they never have to make, to let everyone know what had happened.
I arrived around 5:15 that morning and held him with Amber for about 30 minutes prior to anyone elses arrival. It was a very special time for me. He was so beautiful. Needless to say, we were devastated and in shock and disbelief. We were suppose to be bringing him home in a few weeks, what happened?
Daphne and Kevin, Landon's Grandparents, arrived shortly after I did and stayed with us. Other family members to follow were, Landon's Aunt Debbie, Aunt Jen, Aunt Tracy, Aunt Annie and Aunt Kendall, Uncle James, and Shonda and some of Amber's friends from the RM House came by.
We were allowed to stay in the PICU with him until around 9 am that morning due to a fatal accident on the interstate that had traffic blocked and was blocking the funeral director as well from getting to the hospital to get Landon. We made the most of these last moments with our precious little one.
---
Landon was truly our miracle from God, prior to Landon's diagnosis of this rare defect, there had only been 50 cases ever reported in the world, according to the NORD database. Of the 50 cases reported none of them had survived longer than 48 hours after birth.
Our Hero survived for 6 1/2 months and died from complications of having a Trach put in. He had won the battle with this rare defect with his courage and strength and willingness to survive.
He was a real Hero and a true miracle sent to us from God. He touched the lives of thousands of people all over the world. He taught so many of us so much about life, strength and courage with his story. As his doctors put it, "Landon is writing his own pages in the medical journals".
---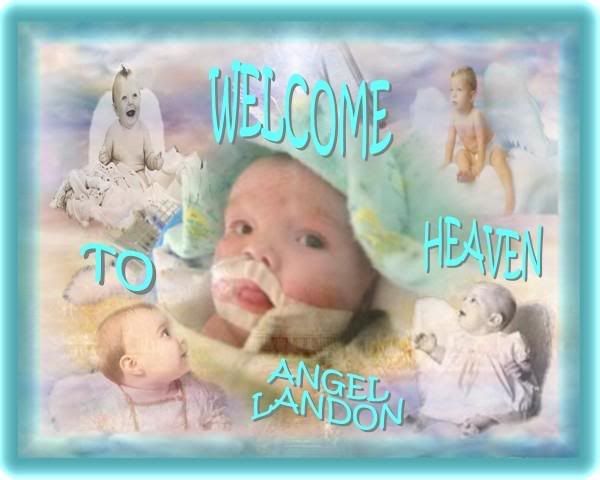 ---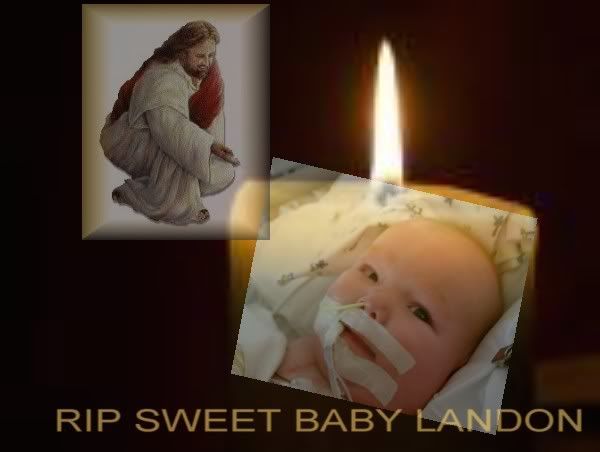 ---
---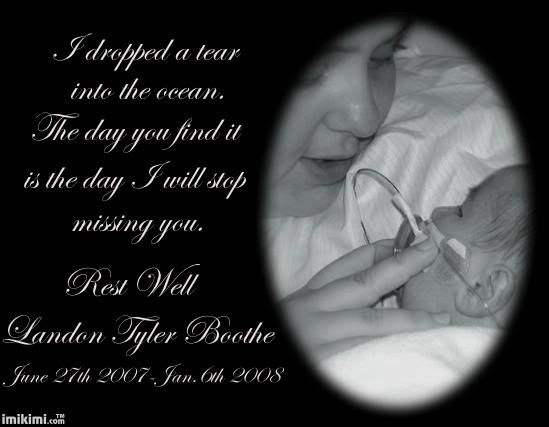 ---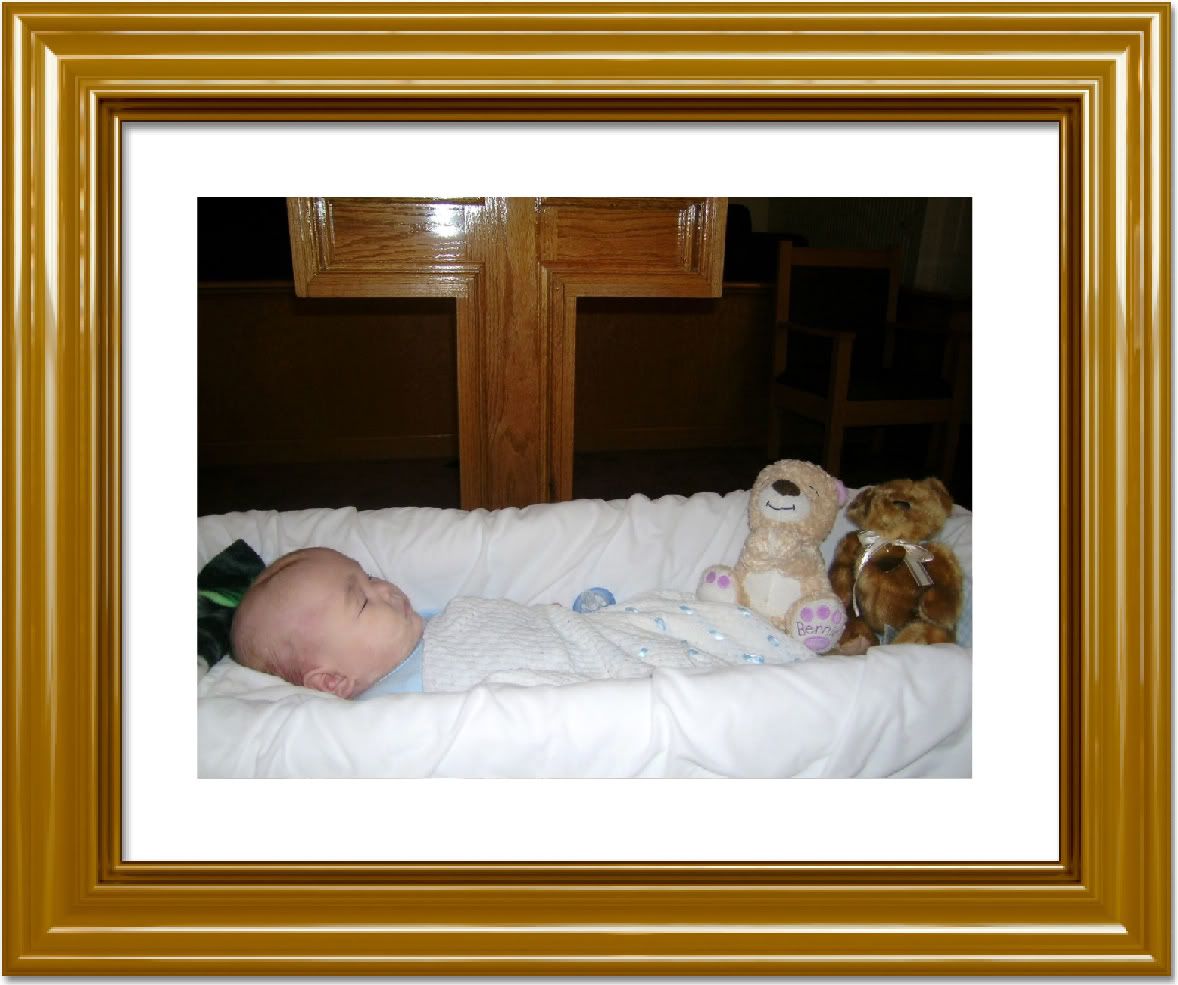 ---
Landon was laid to rest on Wednesday, January 9th, 2008, at Enon Baptist Church in Montevallo, AL. His mommy dressed him in his baby blue pajamas that he never got to wear until then. He was such a beautiful little Angel at his funeral.
Amber had a continuous music CD playing with all her favorite songs for her and her little "Chunky Monkey" at the wake right before the service started. The songs that played were: Natalie Grants- Held and In Better Hands Now, Mark Schultz- He's My Son, Jeff Secauda-If You Could See Me Now, JoDee Messina - Heaven was needing a Hero, Carrie Underwood - So Small, Vince Gill - Go Rest High On That Mountain. Amber's Mom, Daphne read a poem to her just before the service was over. The poem was called "Are you still a Mother When Your Child Is Not With You?". This was a very touching moment for all of us, especially Daphne and Amber, as Amber was unaware that Daphne was going to do this. It was a beautiful service for a beautiful little man.
---
"Fly"
by Celine Dion
Fly, fly little wing
Fly beyond imagining
The softest cloud, the whitest dove
Upon the wind of heaven's love
Past the planets and the stars
Leave this lonely world of ours
Escape the sorrow and the pain
And fly again.
Fly, fly precious one
Your endless journey has begun
Take your gentle happiness
Far too beautiful for this
Cross over to the other shore
There is peace forevermore
But hold this memory bittersweet
Untill we meet.
Fly, fly do not fear
Don't waste a breath, don't shed a tear
Your heart is pure, your soul is free
Be on your way, don't wait for me
Above the universe you'll climb
On beyond the hands of time
The moon will rise, the sun will set
But I won't forget.
Fly, fly little wing
Fly where only angels sing
Fly away, the time is right
Go now, find the light.
---
Please visit Landon's other web-sites and Angel Friends and other Warriors and Fighters sites:
If you would like your Angel or Warriors site added here, we will be glad to do so, just send me an e-mail with their link.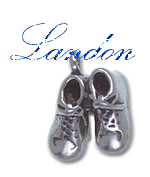 Warriors and Fighters:
Lily's Hope: http://www.caringbridge.org/visit/lilyclevenger
Little Tyler: http://www.caringbridge.org/visit/tylersincavage
Princess Lisa: http://www.caringbridge.org/nc/lisa/
Angels:
Landon's Myspace:
http://www.myspace.com/babylandon0627
Landon's Caringbridge:
www.caringbridge.org/visit/miraclebabylandon
Jacob Christian Snelling:
http://jacobchristian.memory-of.com
Bethy Unangst:
http://www.caringbridge.org/visit/bethunangst
Shaun Whittaker:
http://michaelshaun.memory-of.com
Landan Harris:
http://landan-harris.memory-of.com
Baby Calan Chambers: http://calan-chambers.memory-of.com
Jeremy Nuno:
http://jeremy-nuno.memory-of.com
Kelsey Briggs:
http://kelsey-briggs.memory-of.com
Kelsey's Purpose:
http://www.kelseyspurpose.org/
Craig Sehon:
http://craig-sehon.memory-of.com
David Giraud:
http://david-giraud-1973-2006.memory-of.com
Kassie Hall:
http://kassie-hall.memory-of.com
Josh Evans:
http://joshua-evans.memory-of.com
Taegen McKinney:
http://taegen-mckinney.memory-of.com
Lexi Goudelock:
http://alexis-goudelock.memory-of.com
Aaron Chapman:
http://aaron-chapman.memory-of.com
Caden Shea: http://caden-jacob-rielly-shea.memory-of.com
Charli Anna: http://www.caringbridge.org/visit/babycharli
Cameron Croteau:
http://cameron-croteau.last-memories.com
Cheyenne Lee Compton:
http://sweet-cheyenne.memory-of.com
---
OUR THANKS AND GRATITUDE
To all the wonderful Doctors, Nurses, and staff at UAB and Children's Hospitals that cared for Landon during his time here with us. Words can't describe our gratitude for your professionalism, along with the tender loving care and memories that you all gave to our precious Landon and our Family. To say that all of you, UAB and Childrens hospitals are the best in the world, would be an understatement. They gave Amber our little Landon life and a home for 6 1/2 months and for that we are so grateful. We want to name a few doctors and nurses these are only a handful, there were many more.

From Children's

3rd Floor PICU - Dr. Winkler, Dr. Alten, Dr. Priya, Nurse Brandy and all the nurses in the PICU that cared for Landon: All of you work dilligently around the clock for all of the children in this unit, taking time with each one of them and their families. You are all amazing people and professionals in your field. The intensive and loving care that you all gave to our Landon will never be forgotten by us. You gave us some of the best memories with our precious little man that we ever had. We were so blessed to have this team of medical professionals to care for him. We thank God for bringing such caring individuals into Landon's life.

Ms. Peggy-Social Worker for the PICU - There aren't words to thank you for all that you did for Amber and Landon while they were there in the unit. You are such an amazing woman that we will never forget. I think about you all the time and wonder who you are helping today and who's face you are bringing a smile to. You are a natural at what you do, always there with open arms and at just the right time. You are a blessing to Children's and all of the children and families that you come in to contact with. We also thank God for bringing you into Landon's and our family's lives.

Children's Nephrology Department - Dr. Benfield, Dr. Katz, and Dr. Askenazi, and the many Nurses and technicians from dialysis and the Renal Department: What can we say, you gave Landon life with the God given gifts and talents that you have. When we thought there was no hope you gave us hope. You brought Landon back to us along with the PICU staff when we thought we had lost him. We were truly blessed when God brought you into Landon's and our family's lives. Thank you so much for doing God's work so gracefully and with such knowledge. Thank you for giving us some of the best of life with Landon.

Pediatric Surgery Department - Dr. Barnhart, Dr. Georgeson, and Drs. Saito and Weidner: For the many surgical repairs you did on Landon and there were many, we can't thank you enough. You probably knew his insides better than any baby at Children's. The miracles that you help carry out for our Landon were just amazing. To be able to move a babies heart from its abdomen back to his chest cavity and keep him alive is a miracle in itself. All of your staff at Children's Surgery Dept. are the best in the world to us. Thank you for also for using your God given gifts so well and giving Landon a chance at life at all.

6th Floor NICU - Dr. St. John, Dr. Schelonka, and Dr. Oliver, and the many nurses that cared for Landon during his stay in that unit. You all grew to love Landon and cared for him with such passion. Friends that stayed in the unit after he left told us that some of you would ask them about him and were deeply saddened when he passed. You were with him and our family through some of the most difficult times in his life. You brought him through some tough obstacles. Thank you for keeping him alive and giving us the time that we had with him.


From UAB Hospital


Pediatric Cardiology - Dr. Robb Romp, you are one of the nicest Doctors that I have ever met. When Amber and I first met you for her consultation during pregnancy, you gave us hope for Landon when no one else had. You were there at his birth and made those first critical diagnosis' of the additional defects of his heart and diaphragm that made such a difference in his life. Thank you also for bringing Landon's surgeon, Dr. Kirkland to him. We all know he is the best and that is what he needed, if he couldn't have you of course. You were his hero that day and he became a hero himself. You were definitely a God send to our family and we thank him daily for bringing you into our lives. Thank you for caring for our precious little Angel throughout his life.

Neonatalology/RNICU - To the many Doctors, Resident Doctors and nurses at UAB on his birthday: Thank you for giving him a chance at life at all, for being there and taking the necessary precautions at birth. All of you were so knowledgeable about all of his defects and the precautions that had to be made. You were there during the first few critical hours of life for Landon and ran all the test and did all the ground work so that we would know exactly what his chances were and what needed to be done immediately, once he got to Childrens. Thank you for being so precise in your testing and diagnosis'. This is one of the best Neonatal Units in the world, the staff here was concerned for Landon from the moment he saw light. We thank God for bringing you in to Amber's and Landon's life as well.

The Kirkland Clinic - To Dr. James Kirkland, what can we say about you that hasn't already been said about you or your family. You gave Landon one of his many chances at life by performing the Open-Heart Surgery on him at his young age of 3 months old. Our family is forever in your debt for making the necessary corrections on our little mans heart. If not for that he definitely would not have made it to six months old. Your God given gift is one that has saved many lives throughout the world. We are proud that God sent you to Landon. Thank you so much for giving us the many days and nights with Landon.
---
Our Supporters & Prayer Warriors
Trovia Snelling & Family - Beautiful Trovia, so sweet and kind, always there when we needed her. Although Trovia has not completed her medical training yet but is working on it. We first met Trovia after she read about Landon through a prayer bulletin that I had posted on myspace that one of our mutual friends had forwarded to her. I think this is how she told me it went.
The moment she learned that Landon was going to need dialysis she immediately contacted us on his myspace prayer page and offered her support and told her son Jacob's story. Click this link to read precious little Jacob's story:
http://jacobchristian.memory-of.com
I wrote her back and I think that I thanked her and told her that I would forward the information to Amber. I did forward it to Amber but Amber is shy and I knew she would not contact her, so something told me to keep her information and I saved the message.
Trovia didn't give up there, she contacted me again and this time gave me her cell phone number and told me if I ever needed to contact her to do so. I always kept that in my mind. This was all during the time that Landon was so so sick at UAB when his kidneys had shut down and he was swelling so bad and we thought that we were going to lose him.
One day while Daphne, Amber and I were at UAB visiting Landon in the NICU, we were frustrated because we were not getting any answers about what they were definitely going to do about Landon and his swelling. Well we were all getting scared and I told Amber and Daphne that I was going to call Trovia and talk to her. Well I did and our friendship with her and her parents grew from there. She encouraged us that day to ask questions to go and talk with the doctors and get an answer and decision from them. She helped us to speak for Landon.
We are so grateful to Trovia and Mr. and Mrs. Harper for their kindness. They were always there for us in our most difficult times. As soon as the nurse called me after Landon passed she was one of the first ones that I called on my way to the hospital.
Thank you Trovia and Mr. and Mrs. Harper, God definitely blessed us when he brought you in to ours and Landon's lives and such a welcomed blessing. This was such a turning point for me as well. You gave us confidence and knowledge about what Landon was about to go through and that made all the difference in the world. I thank God so much that you contacted us and that I made that phone call to you that day and for sending you to us.
---
Web-site Prayer Warriors and Friends
MYSPACE SITE - On this site we have close to 2000 people on Landon's page that have dilligently prayed and supported Landon and our family from day one. Each one of you grew to love our precious little boy as we did, checking his page each day for an update on his progress or for any changes.
Upon learning the devastating news of his passing, all of you were just as heartbroken and devastated as we were. The outpouring of support and prayers and love from all of you during our time of grief was so heartwarming.
To this day you continue to be a huge support to all of us on his page there. God blessed us with all of you and blessed Landon with all of you and your prayers for him. We thank God every day that he brought us together with such beautiful people for Landon. We can never repay or begin to put into words our gratitude for all the prayers and support from all of you. Thank you so much.
---
CARING BRIDGE SITE - This site was one that we started when Amber began living at the Ronald McDonald House so that she could stay in contact with all of her friends from the Myspace site and update everyone from there. She received much support not only from the Myspace friends but also from some Caring Bridge members as well that began to follow Landon's progress and pray for our little boy.
---
In summary there were people all over the world praying for our little boy. We thank each and everyone of you for all your support and prayers and thank God for bringing such special people in to our lives.
---
SPECIAL POEMS AND QUOTES "Forget Me Not"
Our little ones whisper,
"Forget me not",
As their specialness wraps
around our heart. Their short little lives
Hold meaning and love.
Their spirits have touched
us-each and everyone. They have left their gifts For us to uncover, If we open our eyes, our hearts and our lives. The road to discovery is hilly and dark. Will we long harbor the pain or set our wings for the light? Our lives have been changed, our paths filled with sorrow. Yet their memories embrace us and our love lasts forever. If we open our hearts, their gifts shall unfold, as we forget them not. Author: Sherokee Ilse
---
"Dream"

I am drawn, quietly
to his grave to check
on him, Just as I'd have
been drawn quietly
to his crib.
I trim the grass around
his marker, And dream
of trimming bangs from
his forehead.
I place flowers in his
vase, And dream of
placing kisses on his
cheek.
I hold his memory
dear to my heart,
And dream of holding
him in my arms again
some day.
(Author Unknown)
---
Just once Just once I wish
I could have spent
a late hour rocking
you in my arms.

Just once I wish
I could have gently
lain you in your crib. Just once I wish I could have changed a diaper, chosen an outfit for the day, given you a bath, soothed your skin with lotion...

Just once I wish
I could have heard
you cry out in loneliness for me, spent time alone with you.

Just once, just the two of us,
I wish I could have strolled you proudly through the shopping mall.

Just once I wish I could have heard the words: "What a beautiful, healthy baby boy!!"
Just Once. (Author Unknown)
---
"I Lost My Child Today"
I lost my child today.
People came to weep
and cry As I just sat and stared, dry eyed. They struggled to find words to say To try and make the pain go away. I walked the floor in disbelief.
I lost my child today. Most of the people went away. Some still call and some still stay. I wait to wake up from this dream
This can't be real-- I want to scream. Yet everything is locked inside, God, help me, I want to die.
I lost my child last month. I lost my child last year.
Now people who had came,
have gone. I sit and struggle all day long, To bear the pain so deep inside.
And now my friends just question, Why? Why does this mother not move on?
Just sits and sings the same old song. Good heavens, it has been so long. I lost my child last year. Time has not moved on
for me. The numbness it has disappeared. My eyes have now cried many tears. I see the look upon your face, "She must move on and leave this place." Yet I am trapped right here in time. The songs the same, as is the rhyme,
I lost my child......Today.

~Netta Wilson~
---